The PAC held its first ever Rare Coin and Bullion Industry Congressional Awareness Event on June 27, 2012. Barry Stuppler, along with fellow numismatists Mike Fuljenz, Pat Heller, Armen Vartian, former U.S. Mint Director Philip Diehl, and industry lobbyist Jimmy Hayes, toured the House of Representatives speaking with congressional leaders and their staff to discuss the importance of the recently introduced
Collectible Coin Protection Act of 2012
(H.R. 5977). Provisions in this bill will provide strength to the
Hobby Protection Act
by adding language clearly and specifically targeting those "providing substantial assistance or support to any manufacturer, importer, or seller" of counterfeit items.
Meeting at the Rayburn Building
L-R: Barry Stuppler, Philip Diehl, Patrick Heller, Armen Vartian, Jimmy Hayes, Mike Fuljenz
Strategy Meeting with Mike Fuljenz, Barry Stuppler and Jimmy Hayes
After the tour, they walked across the street to a restaurant where representatives from Dillon Gage Group, Industry Council For Tangible Assets (ICTA), Numismatic Guarantee Corporation (NGC), Professional Coin Grading Service (PCGS) and Stack's Bowers Galleries provided presentations showing members of Congress and their staff the many products and services the rare coin community offers. Congress members were also shown examples of counterfeit coins that U.S. collectors bought thinking they were genuine.
Jimmy Hayes inviting Rep. John Lewis (D-GA) and his staff to the reception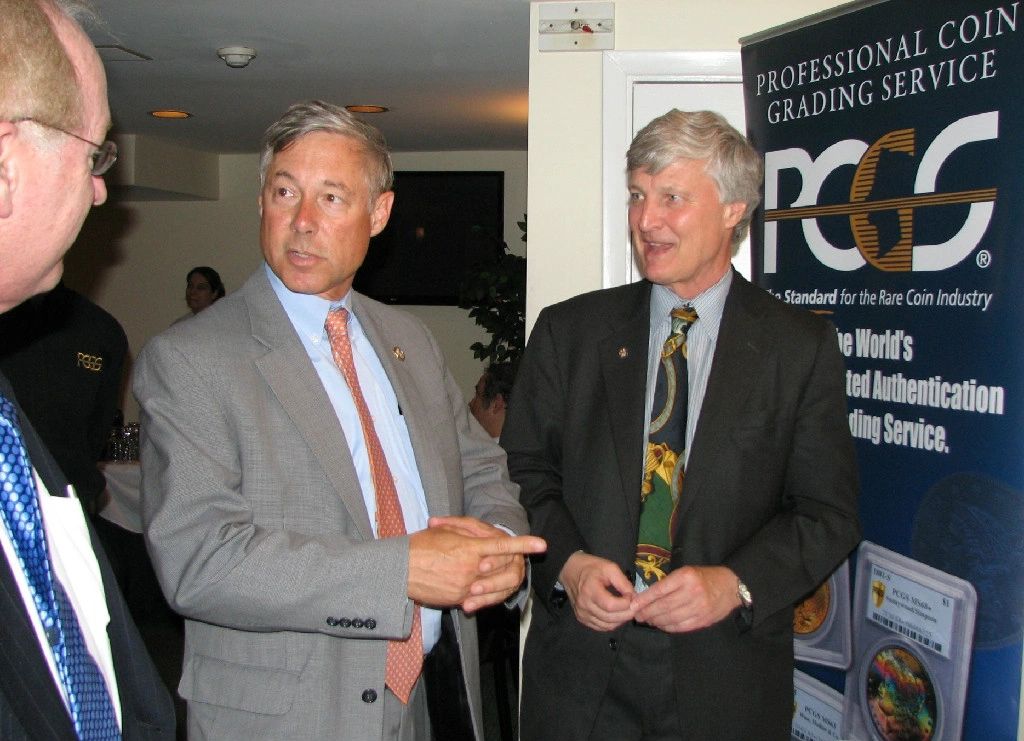 Barry Stuppler discusses the Collectible Coin Protection Act with Rep. Fred Upton (R-MI) and Jimmy Hayes
Reception at Tortilla Coast
L-R: Philip Diehl, Terri Hewitt (Dillon Gage), Mike Fuljenz, Eloise Ullman (ICTA) and Patrick Heller
See all of the event photos here:
http://barman.ws/GSPAC/Gold_%26_Silver_PAC_Congressional_Awareness_Event/Photos.html